Seeking a Career in Lighting, Shading, and AV Integration in the Austin Area?
Consider the following questions:
Are you looking for a job where you have fun and actually like the people you work with every day?
Do you have an interest and experience in the audio/video, lighting, shading, or home automation industry?
Do you like to continually learn new and exciting things?
If you answered yes to these questions, then Service Tech is looking for you! We are an award-winning AV integration company with lighting and shading installer, AV systems programmer, and network technician positions currently available.
Take a look below to learn more about our company goals, culture, and the exciting things you could do if you join the Service Tech team!
SEE ALSO: Visit Us On LinkedIn
Service Tech's Goals
As the high-end lighting designer and lighting and shades expert leading the industry in the Central Texas region, we strive to impress our commercial and residential clients with outstanding product performance, design, and customer satisfaction.
Every project is unique, and we love coming up with out-of-the-box ideas to solve problems and bring ideas to life! We value creativity, ingenuity, and attention to detail, because we know these traits not only impress us but our clients, too! Exceeding expectations is the name of the game at Service Tech.
Company Culture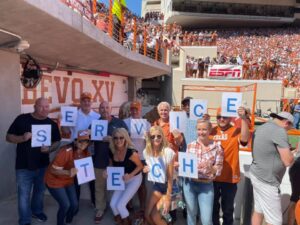 The daily grind doesn't have to feel like a grind at all when you work with the right people. Team-building and celebratory events allow us to get comfortable with one another and recognize each other for our achievements outside of work and professionally. And you'll always see us cheering on the Longhorns at DKR Memorial Stadium together! If you're not a UT fan, though, don't worry – we'll forgive you.
The Benefits
Besides our stellar team and industry-leading performance, Service Tech offers benefit packages that include 401K, insurance coverage (medical, dental and vision), and paid time off. We also handle in-house training so staff can extend their skill sets. You'll be able to become a brighter, better version of yourself. We'd love to have you grow with us!
Job Availability
We're constantly innovating our industry, and we look for technicians and installers who know the latest trends and requirements in the AV, networking, lighting, and shading industries. We work alongside top-tier architects, builders, designers, and clients throughout Texas – not just the Austin, TX area – and our relationships with these people mean the world to us.
Take a look at some of our current lighting and shading opportunities:
Master Electricians
Lighting Designers
Lighting System Installers
Radio RA2 Systems Programmers
Experienced Shades Installer
Shade Fabricator
We are also hiring for several internal positions and the following AV integration jobs:
Automation Systems Programmer
Systems Design Engineer
Network Technician
Security Systems
Submit Your Resumé Today
If you're excited about the opportunity to work with a powerhouse Texas team comprised of AV, lighting, shading, and automation professionals, look no further than Service Tech. We'd love for you to submit your resumé now!